News
SUNSHINE SPECIAL MARINER'S GAME
On June 13th, 2022, we had an exciting day or taking seniors to a Mariner's game!  It was exciting day in the sunshine, and a chance for us members and the seniors we brought along to have fun.  Food, cheering, and laughter surrounded us.  We were honored to even receive a special shoutout on the big screen.  Thank you, T-Mobile Park!  A big thank you for the members that volunteered, and the seniors who joined us.
INSTALLATION OF OFFICERS
Officers for the 2021/2022 year were installed at a ceremony  on July 18th.  Pat McDaniel officiated and our president, Denny Lockett, will now be able to relax.  The remainder of the evening was a time for all to relax.  The new officers are listed below:
President:  Denny Lockett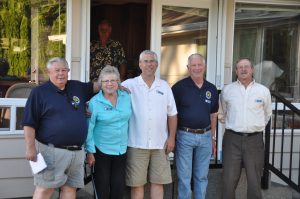 Past President:  Gail Smith
President Elects: Michelle & Vicki Peden
Treasurer:  Donna Dowdell
Secretary:  Jeanie McCain
Board Members:
(Expires 6/30/22)                                 (Expires 6/30/23)
Bonnie Johnson                                      Jim Dowdell
Michelle Codd                                         Brian Trautmann
Jay Smith                                                 Bulletin Editor
Donna Dowdell                                       Jerry Heigh
Denny Lockett                                         Secretary
Jeanie McCain
BACKPACKS:
On August 22 members of the club gathered together to assemble backpacks to be distributed to students at 15 different elementary schools and also children at Childhaven.  These backpacks were then taken to the locations for the school personnel to give to children in need.  Bonnie Johnson heads up the project and had over 30 volunteers helping to accomplish the task.  All supplies were purchased through Fred Meyer.  We gave them a list and they gave us very good prices for the supplies and then gave us a 15% discount as a "friend of Fred Meyer".  Members of the Burien Fire Department helped to unload all the materials, they were a great help.
AUCTION PREVIEW:
Procurement of auction items is a major task.  If anyone has potential auction items you might donate, contact Brian Trautman at trautmannb@msn.com.  The Auction will be held  January 25, 2020
Come Be Our Guest
We have breakfast meetings every Wednesday except the first Wednesday of each month which is an evening meeting.  Click here for a Calendar of Events.