News
Sunshine Special Mariner's Game
On June 13th, 2022, we had an exciting day or taking seniors to a Mariner's game!  It was exciting day in the sunshine, and a chance for us members and the seniors we brought along to have fun.  Food, cheering, and laughter surrounded us.  We were honored to even receive a special shoutout on the big screen.  Thank you, T-Mobile Park!  A big thank you for the members that volunteered, and the seniors who joined us.
Back Packs Project

On August 22 members of the club gathered together to assemble backpacks to be distributed to students at 15 different elementary schools and also children at Childhaven.  These backpacks were then taken to the locations for the school personnel to give to children in need.  Bonnie Johnson heads up the project and had over 30 volunteers helping to accomplish the task.  All supplies were purchased through Fred Meyer.  We gave them a list and they gave us very good prices for the supplies and then gave us a 15% discount as a "friend of Fred Meyer".  Members of the Burien Fire Department helped to unload all the materials, they were a great help.
Exchange Club Christmas Party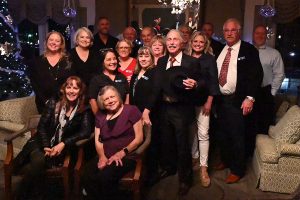 We had a good turnout for our 2022 Christmas party at Glen Acres Country Club and our 'wine-elephant' gift exchange was a ton of fun. Thanks to Bonnie for helping coordinate the location and meal, to Mark for lending his expertise in evaluating the wines and for taking pictures. And thanks to our Club members and plus-1 significant others and friends. Happy holidays!