News
INSTALLATION OF OFFICERS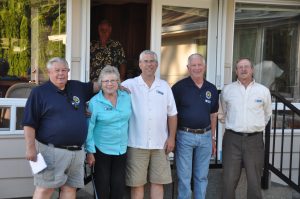 Officers for the 2016/2017 year were installed at a ceremony  on July 6th.  Pat McDaniel officiated and our president, Doug Moreland, will now be able to relax.  The remainder of the evening was a time for all to relax.  Brian Trautmann began his reign as the new president for the 2016/2017 year Exchange Club of Highline.  He invites you all to come join us. The new officers are listed below:
President……………………Brian Trautmann
President elect……………Trisha Arias
Past President…………….Doug Moreland
Treasurer……………………Jim Schafer
Secretary Pro Tem……….Doug Moreland
Board Members:
one year term                                      two year term
Mark Stephens                                     Bonnie Johnson
Chris Boysen                                         Lizzy Gilbert
Jeanie McCain                                       Anita Murray
Bulletin editor……………………………….Jerry Heigh
BACKPACKS:
On August 22 members of the club gathered together to assemble backpacks to be distributed to students at 15 different elementary schools and also children at Childhaven.  These backpacks were then taken to the locations for the school personnel to give to children in need.  Bonnie Johnson heads up the project and had over 30 volunteers helping to accomplish the task.  All supplies were purchased through Fred Meyer.  We gave them a list and they gave us very good prices for the supplies and then gave us a 15% discount as a "friend of Fred Meyer".  Members of the Burien Fire Department helped to unload all the materials, they were a great help.
AUCTION PREVIEW:
September 21 will be a special meeting to plan for our annual auction which will take place's never too early to start planning and our president would like to start organizing for the auction earlier than the club normally does.  Procurement of auction items is a major task.  If anyone has potential auction items you might donate, contact Brian Trautmann at trautmannb@msn.com
Come Be Our Guest
We have breakfast meetings every Wednesday except the first Wednesday of each month which is an evening meeting.  Click here for a Calendar of Events.